Description
The Dualtron Spider electric scooter is a revolution in the range of the Minimotors brand. 
The Dualtron spider is a high-performance, powerful and  durable product.  Its weight is very suitable to take with you wherever you go.It definitely light enough to haul up and down some stairs, bringing it into the train or lifting it into the trunk of a car. The Magnesium Motors and ultra light Carbon fibre handlebars enabled the Spider to be extremely durable and extremely light without making any compromises in performance and durability.
This product is one of the most practical scooters, striking an excellent balance between speed, range, weight, and durability. 
You can ride this electric scooter at high speed with high confidence while maintaining a feeling of stability and accuracy.
MAX 3000W BLDC DUAL MOTOR and 17500 mAh lithium-ion battery.
This model is equipped with an MAX 3000W Dual Magnesium motor, combined with a high performance 17500 mAh lithium-ion battery rechargeable in 9 hours.
This Electric scooter has a high  battery performance level, it is equipped with a high quality LG battery capable, in the LIMITED version, of delivering an amazing range of up to 85 km.  
The Spider can easily hit a top speed of 60 km/h. Its robust frame can carry a load of 100kg and can climb slopes of up to 25%.
 It is also equipped with 10-inch tires that enhance your comfort and road holding in all environments.
 Dual Disk Brakes & ABS
This electric scooter is equipped with front and rear magnetic disc brakes  with a dual anti-lock braking system (ABS) that can be enabled, disabled  and regulated via the EYE LCD interface. They provide superior braking power without  worry about any tires locking. The dual regenerative brakes also add a bit of stopping power.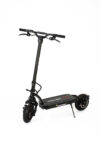 Variable rear rubber suspension system 
This scooter is designed with the 5-step adjustable rubber suspension system that allows you to adjust the suspension strength with rubber cartridge replacement (5 steps).
The cartridge suspension allows customisable ride stiffness by swapping in different cartridges.
Front and rear suspensions and 10-inch tyres ensure that you ride comfortably on all types of roads. You won't have a problem with bumpy roads or potholes and 
 you won't have any risk of bottoming out or scraping the undercarriage.
 Light system
Dualtron Spider offers LED front and rear lighting, as well as a brake light which allows you to drive safely in the dark. Mood lights could be controlled with an included remote control.
 Foldable
The Dualtron Spider can be folded onto the platform for easy transport.
It is not equipped with foldable handlebars but you can add it.