Description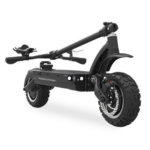 Minimotors has developed a completely new model in terms of power and design with impressive cross-country tires. The Dualtron Ultra has been designed to go on all roads. It can climb 35° slopes without any effort. Its peak power is incomparable to other electric scooter models.
A device with outstanding performance. Equipped with a dual engine for a power of 5,400W, the Dualtron Ultra can reach a top speed of 80 km/h effortlessly.
In terms of autonomy, here again nothing has been forgotten with a 60V 35Ah lithium Li-Ion battery allowing this Dualtron electric scooter to reach up to 120 km of autonomy when driven in eco mode!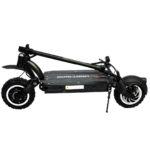 The Dualtron Ultra is fitted with electric front and rear disc brakes as well as wheel drive for easy travel on steep roads. Finally, let's not forget the front and rear suspensions as well as the 11-inch cross tires ! Everything is done to make this Dualtron electric scooter the "queen of 4x4s"