Description
THE COMPACT DUALTRON, THE SMALLEST SCOOTER OF ITS GENERATION.
The Compact Dualtron : Has small dimensions.
All electric scooter specialists agree that the models in the Dualtron range produced in the Minimotors factories are among the best on the market. These devices have very high quality technical features.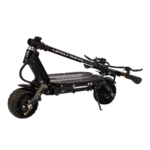 Their top speed, autonomy, braking system and suspension make these electric scooters real little cars. However, the Dualtron Compact are also pointed out for their size or weight making them difficult to transport for users.
With the Compact, Dualtron launches for the first time an electric scooter that is smaller and therefore more manoeuvrable.
For the manufacturer, the release of this electric scooter was a real change.
Indeed, it was necessary to combine the well-known performances of Dualtron scooters with the smallest possible dimensions.
In the end Minimotors presents us an electric scooter whose technical characteristics are quite classical with two 800W BLDC HUB motors on each wheel and a 60V 18.2Ah battery. The Dualtron Compact can go up to 60km/h and has a range of 50km (in single engine).