Description
If you are looking for a high-performing electric scooter, the Dualtron Raptor 2 is a choice that cannot  be wrong. It is equipped with a powerful 3000 w motor with a range of up to 60 km with a 60V, 18.2AH battery. The scooter is more lightweight than most other high performing dual-motor scooters with a weight of 22.6kg.
The Dualtron Raptor 2 is a massive upgrade to the original Raptor, coming with modern electric scooter features such as an LCD Eye Throttle, stem lighting and an anti-lock brake system (ABS). In addition, it requires low maintenance thanks to the non-pneumatic tires.  The frame is made of 6063-T6 aluminium alloy and steel and can carry a load of 120kg and climb slopes of up to 25%.
Its top speed is sufficient to enable you to enjoy a thrilling ride.
3000W MAX BLDC MOTOR & 60V 18.2 AH Battery
The Raptor 2 powerful 3000W MAX BLDC Motor will allow you to climb hills easily. Besides, you can choose to ride in Eco mode-lower power for smooth city cruising and prolonged range-or Turbo mode for maximum power. The motor's configuration can be customised to meet your requirements.
The 60V 18.2 AH battery will give you a range of up to 60 km from a single charge and you can ride long distances without any difficulties.
The Dualtron Raptor 2 battery takes up to 9 hours to fully charge when charging using a standard charger. You have the option to shorten the charge time to just 4.5 hours with two standard chargers or 2.8 hours using a quick charger. 
Foldable Handlebars
The Raptor 2 is designed with an easy and solid foldable mechanism and  even both handlebars can be folded down, making the scooter tightly packed when folded. The scooter can easily be carried upstairs, transported in the back of your car boot or stored in compact spaces.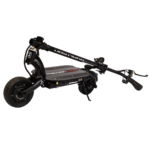 Dual Rubber Suspension & ABS
The raptor is equipped with dual 15-step adjustable rubber suspension and 8" solid tyres to ensure smoothness and  optimum comfort  on the move.
Safety is guaranteed with a rear drum coupled with the ABS braking system which prevents the tires from locking up during heavy braking.
The suspensions can be adjusted by switching between five different rubber cartridge types and tuning their height. You can choose from ultra-soft to extra hard suspensions depending on your weight, terrain, riding style etc.
Better still, the electric brake is regenerative, meaning your battery recharges every time you brake, prolonging the range.
LCD Eye throttle display
The Raptor 2 features an intuitive EYE throttle display located on the handlebars and  attached to an index finger-throttle.The LCD display keeps you informed on various aspects of the scooter, including the distance travelled, time, mode, the scooter's current speed, and the remaining battery life. 
The Ey3 gives you full control over the scooter such as the mode button, power button and setting button as well as  convenient access to several options such as cruise control, rear electric brakes, auto-off, motor output.
There's also an optional fingerprint to unlock your scooter.
Light System
The Raptor 2 Light system is mainly designed to improve security in the urban environment especially during the darker hours.
The dual LED Headlight, turn lights on the back as well as brake lights in the Raptor 2 provide you with the increased visibility and security you need..
You can customise the LED stem lighting using a convenient remote that comes with the scooter.
Tires
The Dualtron Raptor 2 electric scooter features 8" non-pneumatic solid wide tires, so it is not susceptible to puncture and doesn't need any maintenance. This feature makes the scooter highly suitable for the urban environment.